Features & Functionality
How the virtual tours work.
For your website
The virtual tours can be very easily embedded into your website quickly, easily and free-of-charge.
Adding the virtual tours to your website provides customers with engaging and interactive content, answering the first question which many customers ask themselves before enquiring… What is the business like inside?
When embedded into websites, the virtual tours have increased clicks-to-conversion rates by up-to 20% and boosted visitor duration by up-to 5 minutes! Embedding the tours only takes a few minutes, learn how in the explainer video below, or view our Step-By-Step Embedding Instructions for further details.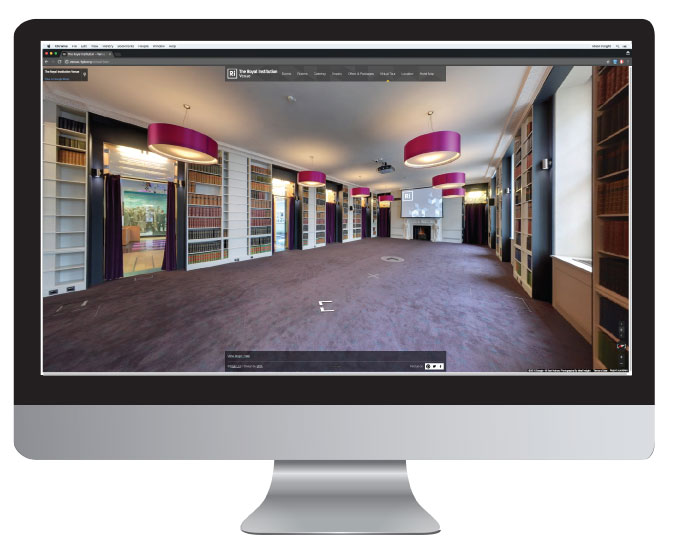 Google
Our virtual tours can dramatically boost your SEO, and accessing the tours directly via Google couldn't be easier! Customers searching for your business in Google will be invited to view your virtual tour via the prominently placed 'See inside' box on the right-hand side of the Google search screen. In one click, customers are inside – it couldn't be simpler.
Maximise your Google presence and stand out over the competition by showcasing your business across the world's most important website with a beautiful virtual tour, that is proven to drive customer engagement.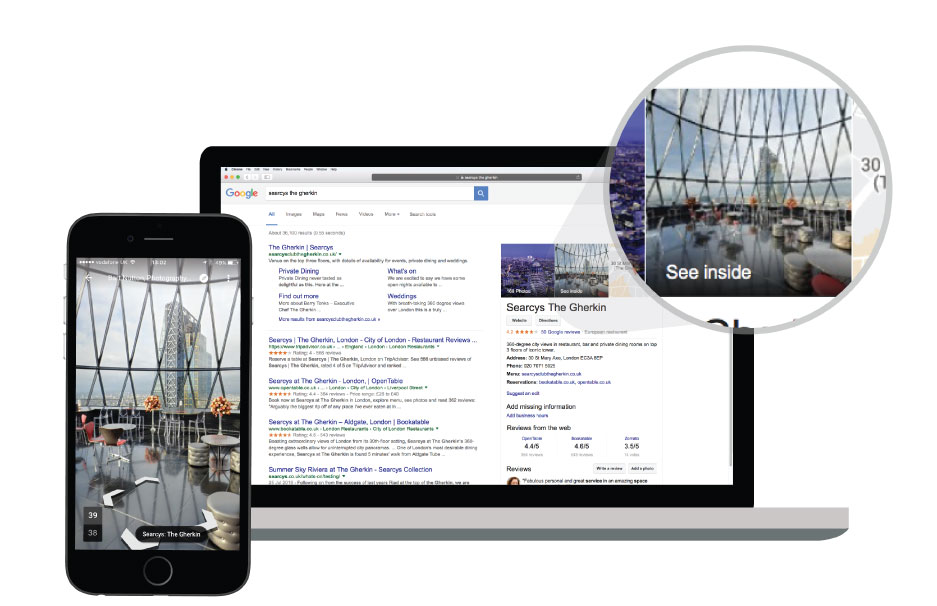 Google Maps
In addition to appearing on Google search results, the virtual tours are integrated into Google Maps.
When a customer searches for your business in Google Maps, they will be invited to view your tour via a prominently placed 'See inside' box to the top left-hand side of the screen.
Try it for yourself: Open Google Maps, Search for 'New Street Grill' and click to 'See Inside'.
Where possible we even connect your business directly to Google Street View!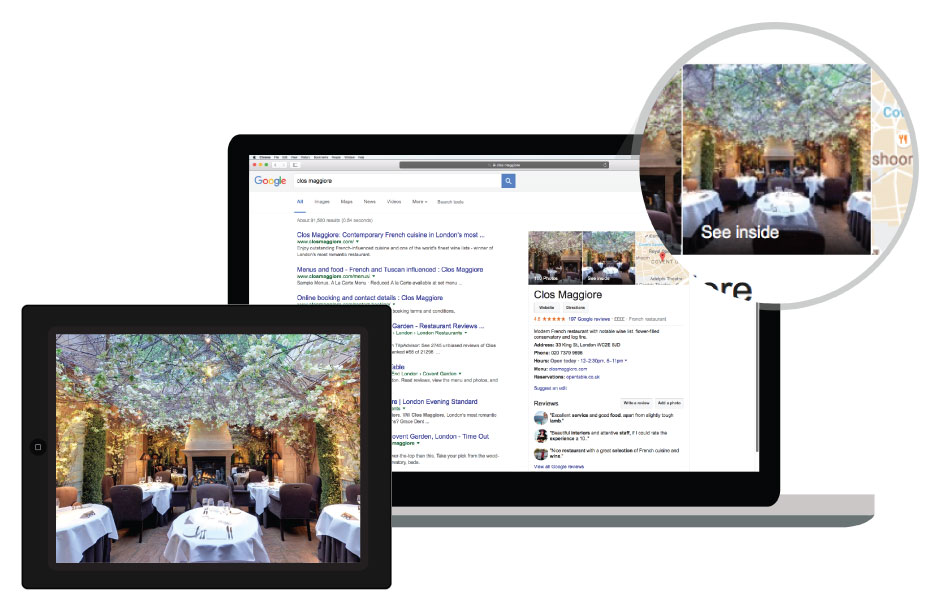 Social Media
We provide all customers with the ability to embed their virtual tour into their Facebook page free-of-charge via a custom Facebook App. It takes under 5 minutes to install the app, and full instructions can be found below here.
Over half of the UK population use Facebook daily, our virtual tours provide innovative and stimulating content to raise awareness of your business, build likes and stand out on Facebook.
In addition, you can share direct links to your virtual tour via Twitter, Instagram and almost every other social media platform!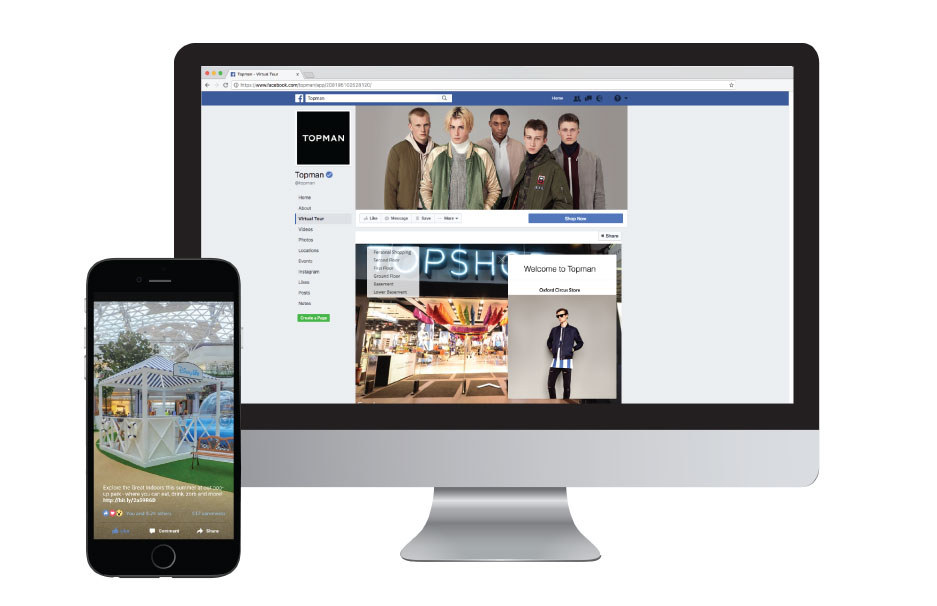 Mobile
The tours are mobile compatible and can be accessed directly via Google search and Google Maps App on both Android and Apple devices.
Google Maps has more than 2 Billion downloads and is the world's most popular business search and navigation app – so your business will stand out where it previously did not!
To view the tours, Simply Search in Google or Google Maps for the business (Better Gym North Greenwich), scroll down the page and click to See inside. It's as easy as that!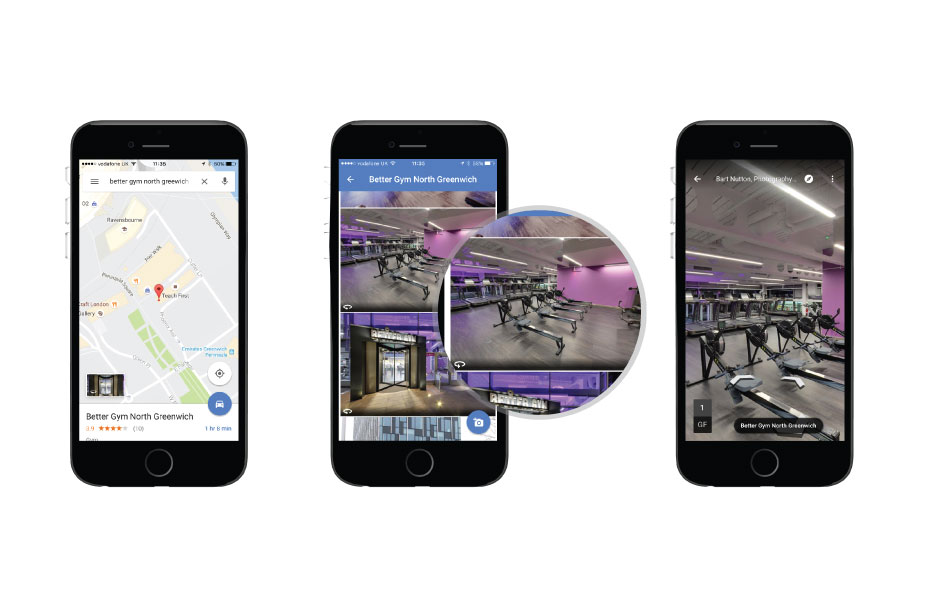 Virtual Reality
Show off your business using Virtual Reality. Our tours are fully VR compatible and can be instantly used with Google Cardboard, Samsung Gear or Oculus Rift.
This has proved an incredible sales tool and an amazing to way too show off your business when attending exhibitions – attracting people to your stand like nothing else does.